About
---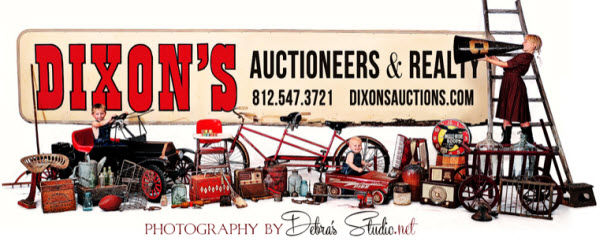 Norman Dixon, the founder of Dixon & Dixon Auctioneers, started out with a small shop on Main Street in Tell City, Indiana buying, selling and trading mostly furniture and appliances. Norman was putting in 40 hours a week at his day job at GE, hiring friends to watch the shop during the day, coming home to evenings full of delivering, buying, trading and hauling in items and even taking on a side job of delivering Blue Flame gas to many local residents.
After marrying, Norman & Emma borrowed a car and traveled to Tennessee for their honeymoon. Seeing the bustling antique shops, Emma decided that they should change their shop into an antique store and auction service. And now, some 50 plus years later, son, Scott, and his wife, Heidi, have grown this modest business into Dixon Auction / Realty, a Full Service Auction House & Real Estate Company.
We continue to carry on the traditions of the past and mix them with the rapidly changing technologies of today's market.
REAL ESTATE SERVICES
Dixon Auction / Realty offers Private Real Estate Listings. We are members of the Southwest Indiana Multi-List Service "MLS" and National REALTOR® Association. Along with our vast amount of online advertising your home/property will be published numerous times in the local newspaper.
REAL ESTATE AUCTIONS
Any property is a candidate for a real estate auction. Call today for a free consultation and quote.
AUCTION SERVICE
Dixon Auction / Realty is Perry County's leading full service auction company, we have conducted thousands of auctions since our founding in 1963. We are experienced and equipped to handle all your auction needs including: 
Farm, Agricultural Land
Residential Properties
Recreational Properties
Business Liquidations
Investment Properties
Farm Equipment & Heavy Machinery
Estate Auctions
Antiques & Collectibles
Specialty Auctions
We have successfully liquidated numerous Auto Dealerships, Large Collections of Tractors & Farm Equipment, Fleets of Vehicles, Surplus City Owned Vehicles & Equipment, School Corporation Properties, Numerous Estates, & Our Annual Tell City® Furniture Consignment Auction is known nationwide for motivated buyers and record prices realized.
We are fortunate to have a wonderful group of dedicated buyers who attend our auctions regularly and a growing group of online bidders.